​

A Chef who carves Loons​


Written by
​
​

Darlene Sprague


​

​ Yes. you read it correctly, a chef who carves Loons. He can carved a freshly roasted turkey in no time, but when it comes to carving a full size Loon, he takes his time. ​Paul Sykas has a passion for carving, whether it be food or wood. It's in his blood.

Paul and his wife Pat, residents of Groton Pond keep active and well occupied. Patti is a retired school teacher, who taught math and comes from Barton. An amazing women, who sews and gardens, keeping herself pretty busy.

​​ As a member of the West Shore Access Association she has volunteered several years as past treasurer and has assisted the present one. They have graciously hosted many meetings.
​​
Paul , aside from being Patti's husband and right hand man, also volunteers his time as VP of the Lake Groton Association. He pulls chef duties for the annual Lake Groton picnic each year. And is also on the board of directors and past President of the West Shore Access Association.

In his spare time, he loves to cook and entertain. In talking with Paul, I asked him where his love of cooking came from and this opened up an unexpected treasure trove of history unknown to many. The following is a brief, but impressive story of how they became involved in the food industry and his love of cooking.​
​
​​​​​In his younger years, he grew up under the supervision of his father in Montpelier, Vermont. His Dad and his four older brothers were operating five restaurants coming into the 2nd world war.
​Three of his Brothers were drafted, so his Dad sold the restaurants except for the Lobster Pot (known at that time as Millers Inn) as he was buying that building and renting the other spaces.
​
​Under the Pavilion Hotel, across from the Tavern on lower State Street, his father had a cellar restaurant called the Pavilion Grill. He out grew that location so he rented space across from the fire station and called it the Victory Room.
​The others were diners, one across from the court house next to the Christ Church, which was an actual dinning car, called the Miss Montpelier. Bill's Dinette was across from Nelson Brothers on State Street over the North Branch River. The last unit is where City Center is now. It's location was about midway on the East State Street side, called the All American.
​After graduation from High School, he worked with his father in the Lobster Pot and learned the trade.
​​A few years later Paul joined the Vermont Army National Guard in the mid fifty's and served until 1962. ​ ​​He ran the mess kitchen for headquarters and Company division # 43 stationed in Montpelier. Then in 1962 he joined the United States Air Force for four years. Two of which he trained in Airborne Electronics . He ended his Air Force career as Staff Sgt. Paul Sykas.

At this point in his life, he met and married Pat and they purchased the Lobster Pot from his father. In the years that followed they became the parents of two children and have two delightful Grandsons. They both have a love of being on the water and ended up building their own place after years of renting. It was then they decided to changed their cabin into a retirement home, traveled a bit and just enjoyed the good life.
​​
Today Paul carves in his spare, time. It all starts with a block of wood. Pat says he has always had an eye for detail and puts much time and energy into his carvings, as well as patience into what he calls his "hobby". This is not about taking a piece of wood and just whittling away at it. It's about measurements and life like proportions. In viewing his collections of carvings, it is obvious he knows what he is doing and does it well, while enjoying the whole process. ​ He also is a talented photographer and shares his photo's with friends and neighbors. During the off season on the pond, he is our weatherman , routinely reporting pond conditions and sending out emails and photos to all who do not have year round residency.​
​
​ Writing this story has been a pleasure. ( did I mention the wonderful food ? ) On a cold damp day as I was leaving the Sykas home, Paul handed me a container of home made soup and a loaf of freshly baked bread. I tried to resist but was weakened by the aroma, it was just too good to pass up. ​ ​​​A visitor will never leave the Sykas home hungry. Thank you for sharing your story with us.
​
​

​Darlene Sprague



​​

​​

​​​​ ​​

​​​​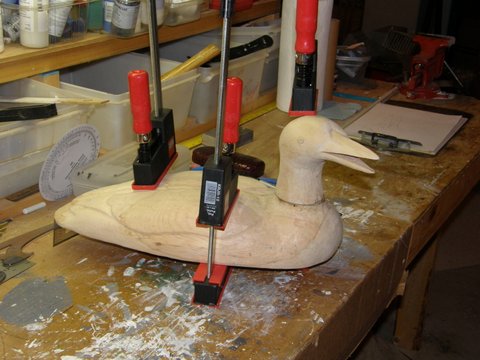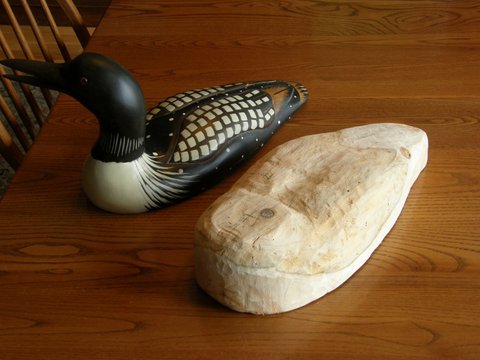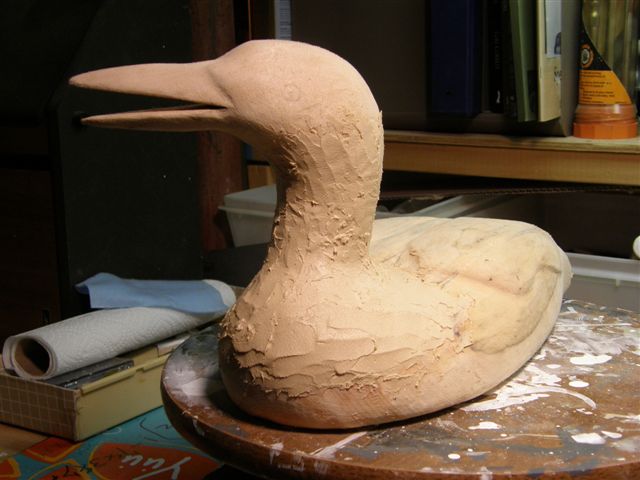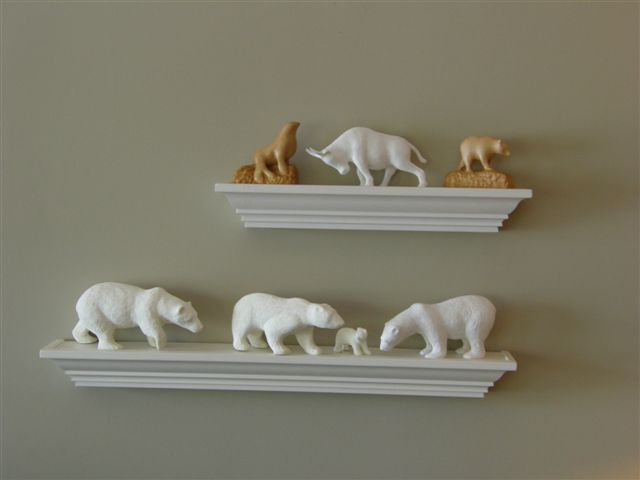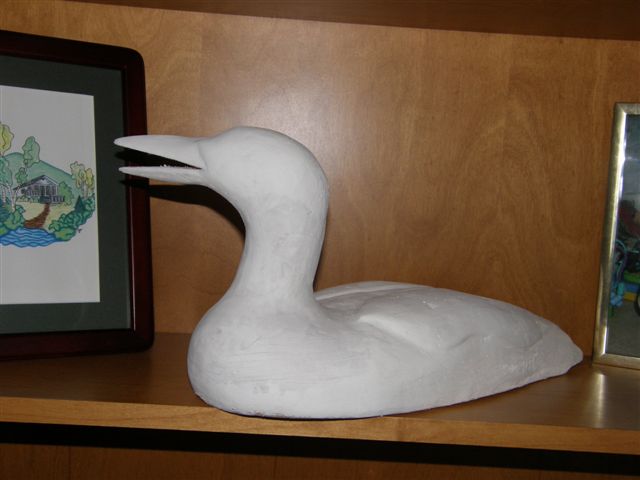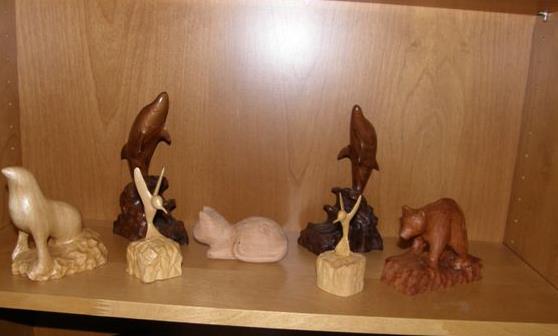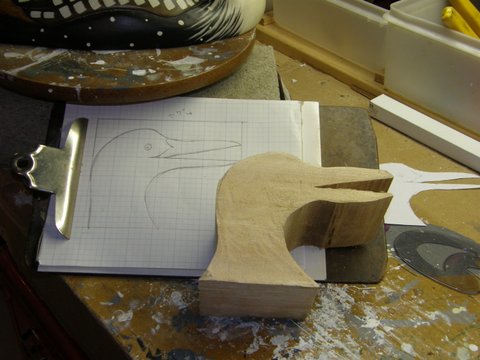 Paul gives some of his carvings a coat of primer. This is "Casper" the Common Loon who will eventually wear a coat of paint in colors of black and white . Loons are notorious for being ghostly and mystical.
Some of his carvings are left in a natural state and not painted. Dancing Dolphins, a Harbor Seal, Humming birds, a Grizzly Bear and a Kitten are just a few of his works
Paul discussing what his next carving project will be. Casper the Loon is primed before being painted and giving off a "ghostly glow" ! He enjoys carving and the challenge of making something become life like out of a piece of wood.
A Seal, a raging Bull and Grizzly Bear adorn the living room on the top shelf, while below polar bears are seemingly being stalked by an intruder bear from behind
the glue, the clamps and then.....
the results of many hours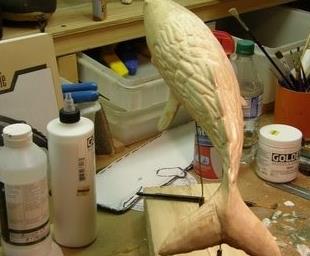 Sperm Whale finished project
Playfull Dolphins with their finishing touches
Paul Sykas, doing a bit of ditching on the West Shore Access Road in early spring​
​

.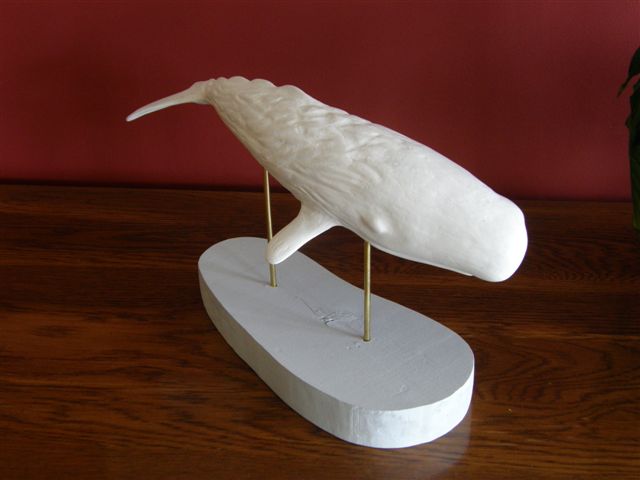 A FEW PHOTO'S PAUL HAS SHARED WITH ALL OF US OVER THE LAST FEW YEARS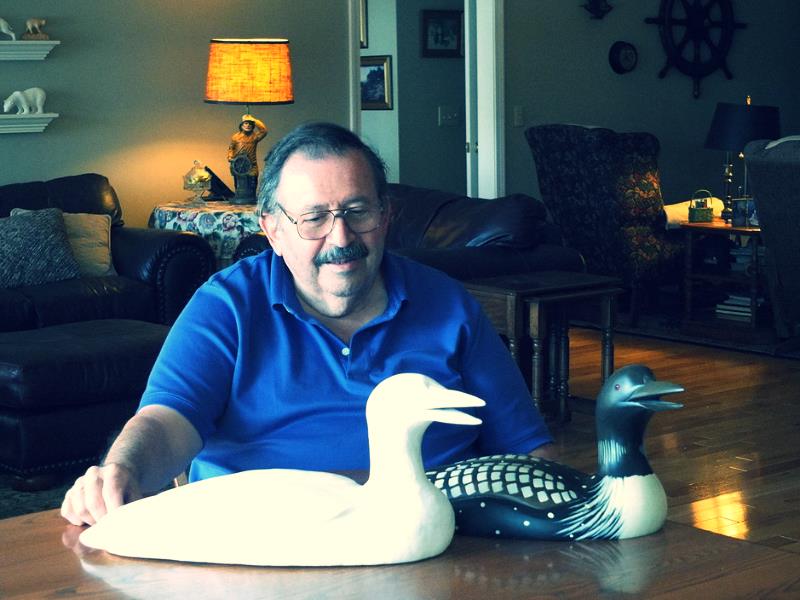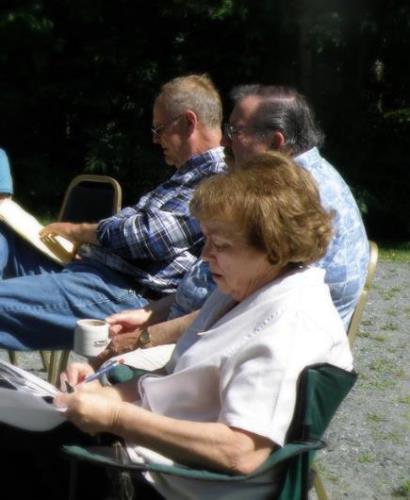 Paul in background and Pat in front,​ taking notes at annual WSAA meeting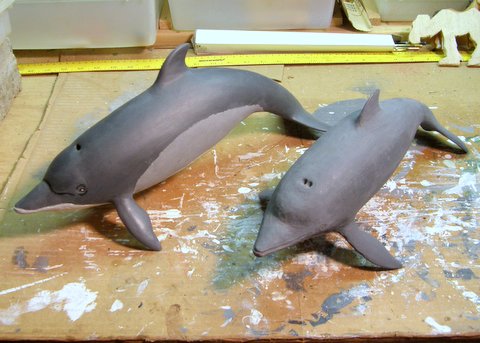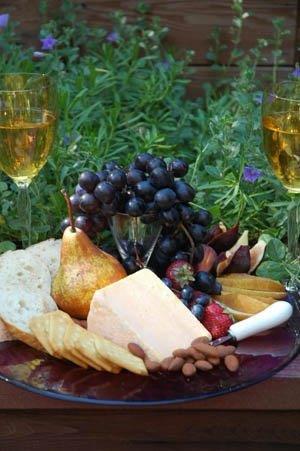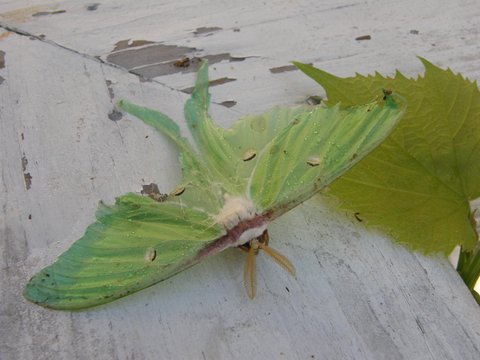 Casper

(R

) receives his final coat of colors and joins the ranks of becoming a full fledged adult male Common Loon carving
Darlene Sprague paints Casper by putting the final touches on Paul's carving
In Memory
​ of a very special friend and neighbor at Groton Pond
​ Paul Sykas ~ May 29 2017​
It all starts with a few pieces of wood, glued together to make a block..........
then a sketch and a cut out of the head
One will always find good things to eat at the Sykas home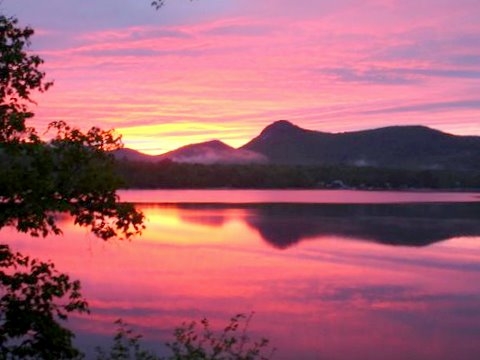 Paul prepping for the Lake Groton Association
​annual cookout 2016
​