SMOOTH WATERS
written by
Darlene Sprague

For as long as I have been on the pond, I have come to realize there are many hidden treasures aside from the sweet nostalgic memories and the pond's natural scenic beauty. Treasures known as the human element. The pond holds many stories, some not widely known, of wonderful things that have occurred over the years, involving people, their passions, achievements and dreams.

I water skied some in my younger years. I was a far cry from being an expert skier. I didn't have anyone to teach me, and my folks didn't have a speed boat so my experience was limited.

My first experience being towed by a boat, driven by a girlfriend of mine, behind my folks old rowboat when we were teenagers. My folks owned a priceless Evinrude motor which powered the boat. We took my Mom's old wooden ironing board and made a aquaplane out of it. The idea was to remove the legs, flip it over, stand on the wider part, put your feet on the brace, lean back, hold onto a loop of rope attached to the narrow end of the board, and hang onto the seat of your pants. There was another rope attached to the board that pulled it through the water by the boat. No doubt very crude, but this is what kids do. We made do.

This type of water sport was done on lazy days of summer with smooth waters. My friend and I spent plenty of time, just having a good time. Riding the board was a challenge, most of the time we never got up on it, but we never gave up. We must have been seen by someone as she drove and I tried to stand and ride the board behind the boat, falling, gulping water and laughing ourselves silly, each taking a turn. But oh the fun that we had. In those days we didn't need a spotter.

I first skied behind a aluminum boat with a 25 hp motor, driven by a good friend and neighbor of my folks, Newell Freer, who owned a camp on the west shore. The ski's were wooden, wide and heavy, as a little kid, they were, heavier than myself. It took all I could do to keep my ski's together to get up and out of the water..But I was able to do it. It was one of the most difficult and tiring things I have ever done.

I have always been curious about the ski course on the northern part of the west shore. So I called a friend who uses the course on a regular basis, Jim Soutar. Jim openly answered all my questions, with much enthusiam and vigor.

​​ He had a treasure trove of information about the history of "the course", as it is called. Jim displays great stamia and skill in maunerving through the course. Another fellow neighbor and skier, Dean Edson has these same qualities. Dean owns that sleak red and white ski boat that we all see zipping quietly by on early morning runs, when the water is as smooth as a mirror, usually with Dean or Jim in tow.

For years now, I have watched these fellows ski with total envy. It is downright awesome to see them free ski from one end of the pond to the other, flying over the water on one ski, crossing the wake, leaning from one side to the other, without as much as a faulter. You can set your watch by them most every weekend morning.

In the mid 80's there was a group of six young men who had an interest in water skiing on the pond. Dean Edson, Mark Rossi, his brother Alan Rossi, Duane Dunbar, Jim Soutar and Steve Clark. They toyed around setting up a course, using milk jugs, which eventually ended up evolving into a first class ski course that is the same as the pro's use. These fellows pooled their money and purchased the course which included a spiderweb network placed five feet under the surface of the water, made out of pvc pipe put together with stainless steel cable, with cross ties.

The course has three sets of different colored buoys, twenty six in all.. Ten red, six green and ten yellow. These colors have signifcant meaning and direct the skier and the boat through the course .This course is about eight hundred and fifty feet long, located about two to three hundred feet off shore. It can be skied by entering from either directon. The average speed of the boat, thirty four miles an hour. ( Dean Edsons ski boat sports a two hundred hp Mercury Motor). Average rope length 60 feet, and then shortened as the skier completes each run. And progressively made even shorter to give the skier more of a challenge. The course should be skied behind a boat with an experienced driver.

Over the years, their families and others used the course, especially some of their children. One acheived professional status, Chris Rossi.

Mark Rossi, Dean Edson and Alan Ross qualified for the reginals. Alan Rossi and Chris Rossi went on to the Nationals. Chris acheived great goals as a teenager, and then continued on to be the USA National Ski Champion.

This acheivement is impressive to say the least. And to think that it all started here, at little Groton Pond. You can check out Chris skiing on the internet at any number of different websites. He is most recently featured on the cover of Water Ski Magazine, April issue at waterskimag.com Make a point of checking these sites out, I guarantee you will be impressed..

He represents himself, his family and friends proudly. Acheiving world wide fame. I don't think it would be unusual to see him once in a while, skiing on Groton Pond just as he did when he was a kid.

. Don't be surprised if someday you look out on the pond and see this young fellow gliding across the water on one ski with the class and style of a champion, seemingly lying down mere inches from the water as he makes his turns, leaving a spray behind him displaying colors of the rainbow with the sun streaming through.

There are several others on the pond that enjoy waterskiing, kneeboarding and various other water sports. It is always a pleasure to watch the children and see what they do and how much fun they are having, evident by their laughter and squeals.

The ski course is now maintained by Dean and Jim. They welcome anyone to use it and encourage those that would like to, to contact them for more information.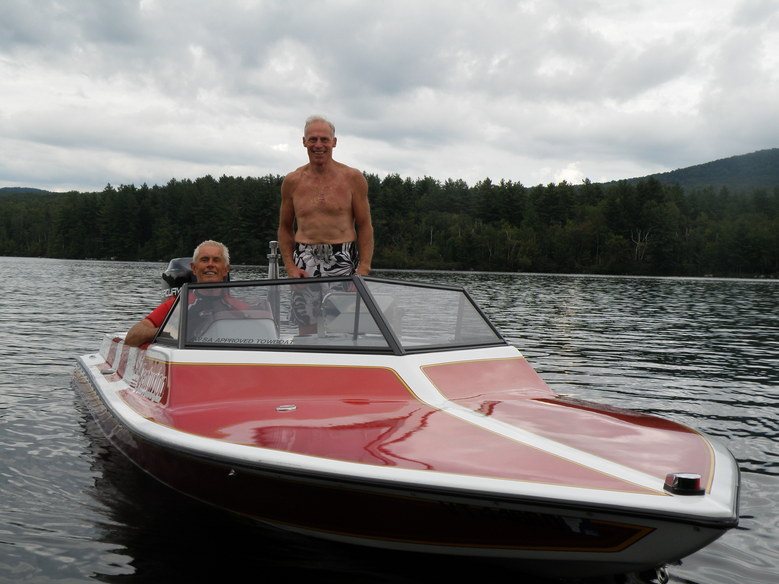 Dean Edson and Jim Soutar use "the course" on a regular basis
sketch of the course by Jim Soutar
Photo's by Darlene Sprague