********CAMPFIRE TREATS********
*****FOR KIDS AND ADULTS ALIKE

CATTAILS WITH JAM
WHAT YOU WILL NEED
JAM (OF CHOICE)
BISQUICK OR JIFFY MIX
WATER OR MILK
COOKING SPRAY
6 STICKS, GREEN WOOD WITH BARK PEELED OFF ON THE COOKING END 3/4 TO 1 INCH IN DIAMETER
MAKES ENOUGH FOR 4-6 *
THIS DEPENDS ON HOW THICK YOU WRAP THE DOUGH AROUND THE END OF THE STICK
TWO CUPS BISQUICK OR JIFFY MIX
2/3 CUPS MILK ( OR WATER IF YOU DON'T HAVE MILK
MIX WELL
DIVIDE DOUGH INTO 6 BALLS

TAKE ONE BALL OF DOUGH AND PACK AND WRAP AROUND THE END OF A PEELED GREEN END OF THE STICK, (SPRAYED WITH COOKING SPRAY FOR EASY REMOVAL WHEN BAKED.). PARK DOUGH ABOUT TWO INCHES UP ON THE END OF THE STICK AND OVER THE END TO FORM A LONG FINGER TYPE ROLL, WHICH WILL LOOK LIKE A CATTAIL WHEN DONE..
( DOUGH SHOULD BE THICK ENOUGH SO WHEN PULLED OFF STICK IT WILL NOT CRUMBLE)

​ HOLD STICK OVER HOT COALS, TOAST SLOWLY TURNING OFTEN TO COOK EVEN., THIS MAY TAKE 10 MINUTES OR LONGER DEPENDING ON THE HEAT OF THE FIRE..WHAT YOU WILL END UP WITH IS A OBLONG BISKIT WITH A HOLE IN ONE END. TO TEST FOR DONENESS....STICK A TOOTHPICK IN THE DOUGH, IF IT PULLS OUT CLEAN IT'S DONE
GENTLY PULL THE BAKED DOUGH OFF THE STICK...
FILL THE HOLE WITH JELLY OR JAM OF YOUR CHOICE.. A TABLESPOON WILL DO

​DELICIOUS...KIDS LOVE IT !



BEAVER TAILS
ALSO KNOWN AS SMORES
THE UPDATED VERSION.... QUICKER AND EASIER FOR THE KIDS

YOU WILL NEED....
PACKAGE OF LARGE MARSHMELLOS
PACKAGE OF KEEBLERS FUDGE COVERED GRRR-HAM CRACKERS
STICK FOR ROASTING MARSHMELLOWS
BED OF HOT COALS
PLACE MARSHMELLO ON END OF STICK AND TOAST
REMOVE MARSHMELLO AND PLACE BETWEEN TWO CHOCOLATE COVERED GRR...HAM CRACKERS
PRESS TOGETHER and EAT

TIPS

BEARS LOVE THIS TOO, BUT DON'T FEED THE BEARS
SAVES BUYING CHOCOLATE BARS AND CUTS BACK ON THE SUGAR
****BANANA BOATS******
What you will need
Ripe banana's chocolate chips, mini marshmellows, tin foil, grill, bed of hot coals
Parents can prepare before handing over to the kids...AND remove from coals when done.
Take a banana and remove one side of the peeling....carefully scoop out some of the banana with a metal spoon to make a shallow spot a couple of inches long to put marshmellos and chocolate chips in. (Banana should look like a canoe when prepared properly..leave the rest of the banana peel on)
Then give the kids some chocolate chips and mini marshmellos to sprinkle over the top of the banana.in the shallow hole.......wrap banana in foil and place on grill over hot coals When When marshmellos and chocolate chips are melted, remove from fire , leaving banana in tin foil, place on a plate, give the kids a fork and watch them go at it....good way to get kids to eat some fruit and have fun at the same time.....delicious !
Dogs on the Wild Side
Wrap a hot dog in a dough made of bisquick, or refrigerator rolls, slowly and carefully push dog onto either a double tong fork or a small peeled willow stick....., carefully toast over hot coals...needs to be watched and tended to..(you may spread catsup or mustard on the inside of the dough before wrapping around the dog, pinch the ends together....or you can also wrap a slice of cheese around the dog before wrapping the dough.
MMMMMM.....so good !
Can't you just smell it !!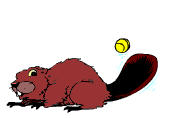 I think you will want another !