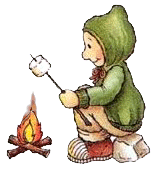 I wish to thank the Groton Town Clerk, Linda Nunn, for her help in obtaining information pertaining to the history of the land and it's previous owners before the town acquired it.
​And to Mr McLeod, Scoutmaster and the gentleman who was instrumental in the concept of the idea of using the land for the scouting and his involvement in the whole project from the very begining.
His cooperation in assisting me in writing this story and providing all first hand information about the history of " Fort McLeod", and scouting from his recollections of days gone by, was invaluable.

​Sincerly,
Darlene Sprague

Groton Boy Scout Uniform Neckercheif
Troop #302
Courtesy of M. Ross McLeod
Scout Master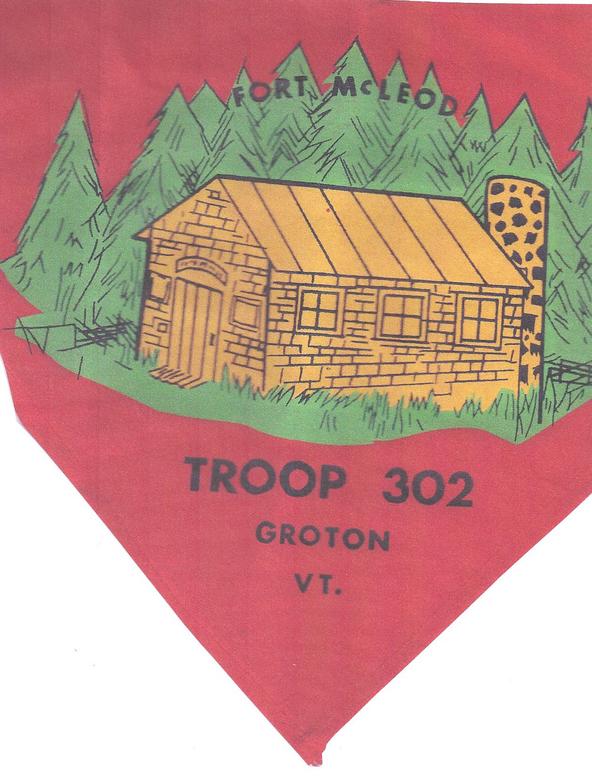 Many wonder about this unasumming little building that sits high on a knoll​ over looking one of the most scenic area's on Groton Pond. Located near the dam at the south end and very close to one of the most undeveloped area's that projects peace and tranquility despite it's very presence. Teeming with wildlife and countless varities of aquatic plants and waterfowl, including the common loon that finds this quiet wetland perfect for nesting and raising their young.

Unknown to many, this place has a name and a definate purpose. It is called "Fort McLeod" also known as "the Scout camp or "Scout Land", which is owned by the town of Groton. It has a history that is somewhat of a mystery to some people on the pond, but familiar to folks in town and their children.

This story begins back as early as can be traced through town records regarding the history of the land and previous owners to the year 1893.
Twenty acres of land was conveyed by a gent named L.D Hazen toT.B. Hall. In 1927 the grantor's title was recorded to be under the name of Peoples Hydro-Electric Vermont Corporation. In 1951 the land was conveyed to the town of Groton from the Green Mountain Power Corporation. From here the story turns out to be amazing.

There have been Scout Troops in Groton as far back as 1915. Then Mr M Ross McLeod moved to Groton in 1966. At that time there was no Boy Scout troop.​​ The Groton Methodist Church voted to sponsor a troop in 1968. Mr McLeod became the Scoutmaster of Troop #302. In talking with the selectmen , Mr M​cLeod discovered that the town owned land on the south end of Groton Pond. They gave him permission to take the troop camping on that land.

After a couple of years of tenting there with the Scouts, the selectmen gave him permission to erect a shelter. It was all very informal, so they decided to build something. Things progressed slowly as much thought was given as to what they wanted to do. The land was pretty much open, so there wasn't much that needed to be done in the way of clearing.

Over the course of several summers they started working on building a camp with all volunteer labor. This included the Groton Fire Department and many men from Groton, mostly fathers of the scouts and the Air Force Reserves from the Barre and Montpelier area. Plus many others that were interested in the project, who also put in much time in helping build the camp.

The Groton Grange was disbanding about that time and it was voted to donate $1000.00 from it's treasury to pay for materials. The old Groton schoolhouse was demolished in this time period also. Material was used from that, such as windows, doors, etc.

After several years of work, the camp became liveable​ and Boy Scout Troop #702 (renumbered somewhere along the way) started using it on a regular basis. There were no natural springs on the land, so water for drinking and cooking was carried in and pond water was used for washing.
​As time progressed improvements were made. Metal double decker bunk beds were donated and they gradually added some built in woodens bunks. They built shelving and cabinets, brought in large picnic tables with attached benches and then built an outhouse......way out back.
​Since the mid 70's the camp has been used by the Scout Troop #302/702, the Cub Scouts and occasionaly other groups. At the present time there are no active Boy Scout troops in Groton. The camp is not being used much, but it is hoped there will be another troop soon. The Cub Scouts use it occasionally.
​
Mr. McLeod is no longer involved in scouting. In thinking back he says he was sorry that they did not keep a journal of some sort regarding the construction. As far as he knows, no pictures were taken either. The whole project was very casual and no one seemed to have given that much thought.

So how lucky were those kids who were scouts, to have been able to have a Scoutmaster who was devoted to scouting and came up with the idea of using the land on the pond for that purpose, which evolved into what now exist ? These children were very, very lucky indeed. I think Mr. M. Ross McLeod deserves a very special merit of appreciation and a thank you for all his contributions to this effort.
​
This little place on the hill is a precious place for future generations of children to experience the wonders of nature and scouting. Now that's how lucky they are !
​​​​​
​​​

​​​​

​​​​

Photo- North Carolina Heritage Center
Mmmm...Bonfires and marshmellos....mmmm