The Adventures of the Loon Ranger
How the
name "the Loon Ranger " became my nickname. It all began in the 80's. I became involved by volunteering. My grandchildren made a joke and comment, that there was the" Lone Ranger" and then there was their Gram, "The Loon Ranger". A summer resident from the south end of the pond, also called me the loon ranger and the name has stuck. many now call me the"Loon Whisperer". I have had the most amazing experiences over the last 20 plus years with the common loon. It has been an incredible experience and a learning journey. A privilege not every one has experienced, To have personal contact with loons, as a volunteer and one who admires and supports them , I feel I am blessed.
​ The first time I consciously remember seeing a loon was back in the mid 80's on Groton Pond. I was struck by this birds outstanding grace and ornate colors, and their haunting calls.. I couldn't get enough of these beautiful birds.. They were elusive and very mysterious.
I started my journey by reading as much as I could about them, then I began attending loon information gatherings and talks . I first attended a public program put on by Sally Borden of the Vermont Loon Recovery program many years ago now. She moved on and then I met a young fellow by the name of Eric Hansen, her replacement and the new Vermont institute of Natural Science VINS) Loon Biologist. When Eric came on board, things changed for me. My life began as a volunteer for the Vermont Loon Recovery Program as a supporter, protector and overseer of these amazing birds on Groton Pond.
​​ "It can be a dirty job, you just have to love it to do it."
How many people would get excited about putting their boat in the water after the ice goes out in the spring, mounting their motor on the boat, gas up, pile the boat full of cinder blocks, cables, floating signs, a shovel, cable cutter, steel bar, bags of duff including hay and a bucket of mud, and take off down the pond with the wind howling in your face and white caps lapping the side of your boat, dressed in a down parka and heavy mittens.....Oh, and not to forget your life jacket, binoculars and a camera.....The answer is, I would !
The anticipation had been building for days, as the ice slowly recedes....and disappears, watching, waiting, then suddenly it's time. It's one level up from spring fever. To lay your eyes on that first loon of spring on the pond, for me is a real high. For years, it has become a spring time ritual. knowing what lies ahead and the joys that I can look forward to. Now it's time to get to work. Loon Season !
Darlene Sprague
VLRP/VLCP volunteer
Footnote:
Over the years a well established Loon population became reality, due to the mighty efforts of statewide volunteers. The back bone and the army behind the organization. The Loons are now off the list of endanger to protected species..​

The name changed from the Vt Loon Recovery Program to the Vt Loon Conservation Program in the year 0f 2014.​ They still need to be managed, there is much work to be done to aide them in their survival.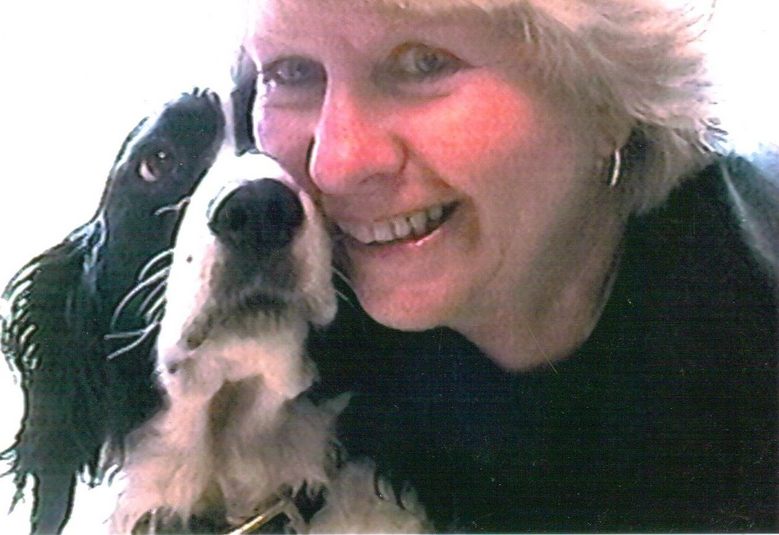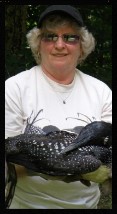 Darlene Sprague examines a dead loon from Kettle pond that was retrieved by Loon Biologist Eric Hanson
August 2012 Photo Eric Hanson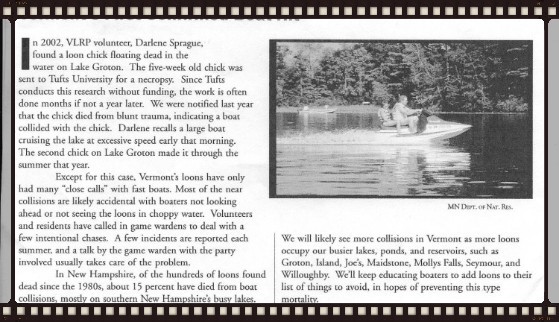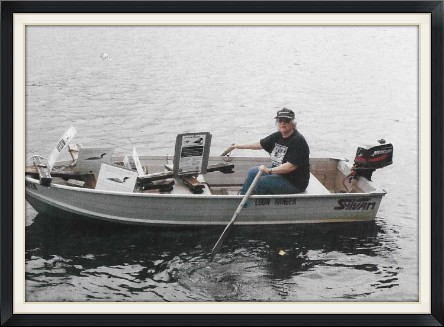 LOON R
ESCUE
Courte
sy Susan Pelkey Smith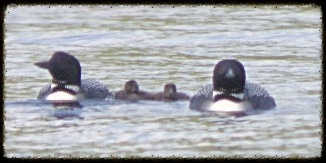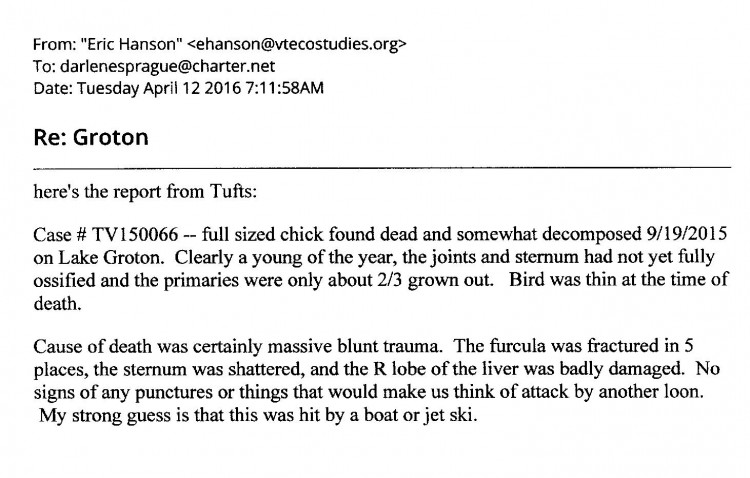 Darlene Sprague volunteer for the Vermont Loon Recovery Program, with a boat load of Loon warning signs which she was putting out in Groton pond near the loon nesting platform to warn boaters to please stay away from nesting loons. Photo Bill Sprague
Darlene Sprague Volunteer for the Vermont Loon Recovery Program retrieves a dead loon chick from the east shore of Groton Pond . Cause of dead was determined to be a boat or PWC hit. It was the worst feeling in the world to have to pick up this chick, it takes a lake to raise a chick, but only one irresponsible boater to kill it in an instant. Year 2002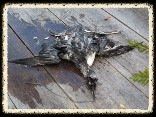 A second known loon chick that was found dead and retrieved from "Groton pond by summer lake resident Jim Soutar A necropsy revealed it was killed by massive blunt trauma . (see report below) September 2015
Photo Darlene Sprague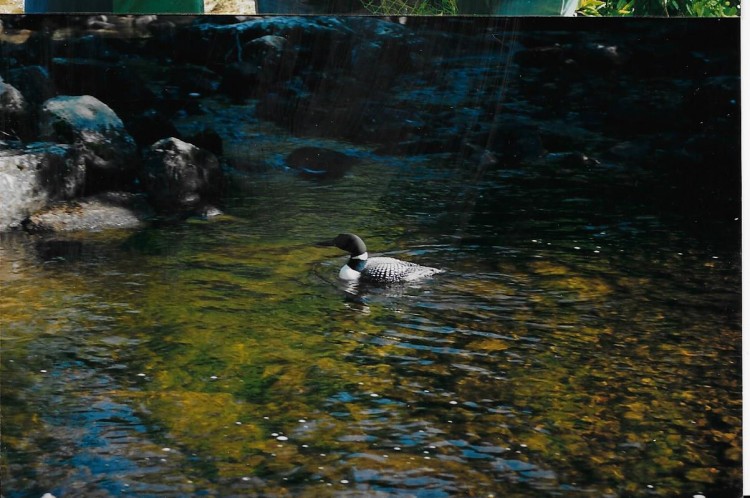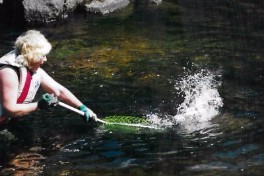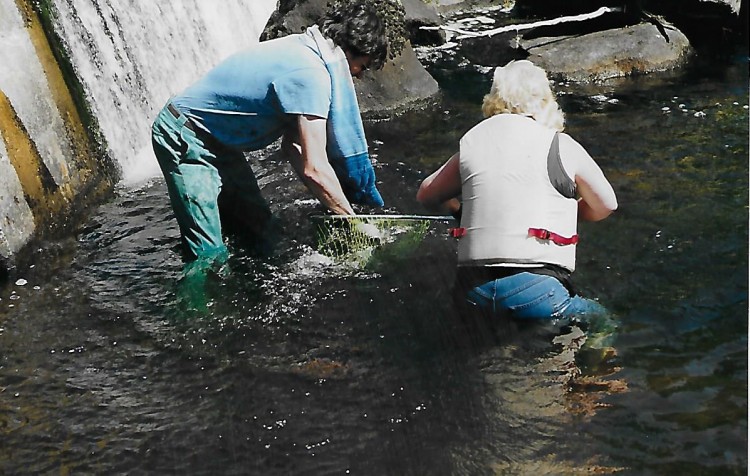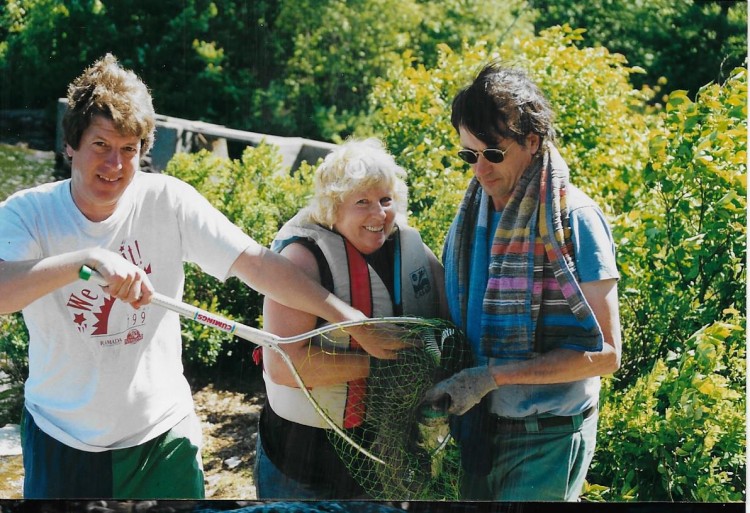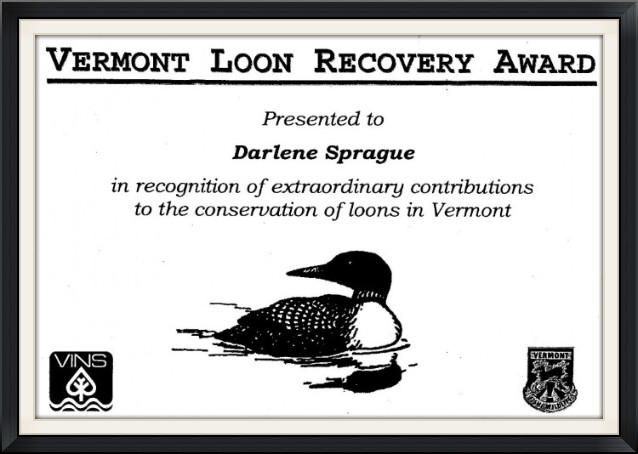 Loon trapped in pool over the Lake Groton dam and was unable to get out and back up into the lake
Darlene Sprague VLRP volunteer, nets the loon which was not an easy task, it was amazing at the speed this loon could move under water, it took more than a few attempts to net her
Sprague assisted by Tom (Dock) Bouffard in gently lifting the loon in the net out of the water
Dwaine Smith assists Darlene with holding the net up gently transfer the loon up and over the dam to be released back into the lake...

Dock and Sprague removed the loon from the net and released it to return to the lake and it's nest that had two incubating eggs in it
SUCESS ! Free at last, free at last
Dwaine and Susan Pelkey Smith had a camp on Rickers Pond. Their son decided to take a walk to the Lake Groton dam, not that far from their place. Upon his arrival he discovered a common loon trapped in a pool of water that needed help. They called for help. The Loon Biologist was out of town and the Game warden unavailable, Darlene Sprague a Volunteer for the Vermont Loon Recovery Program who has a cottage on Groton Lake, was called and came to the rescue. Her training and knowledge paid off with a little help from Bouffard and Smith.
LAKE GROTONS FIRST LOON FAMILY


Photo Darlene Sprague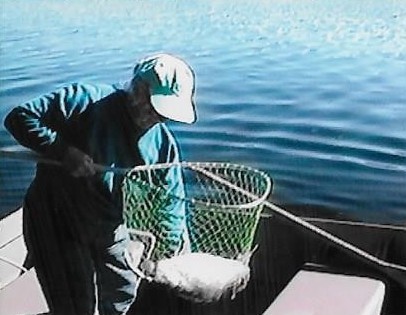 Photo's Amanda Mae Foster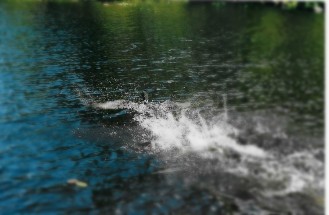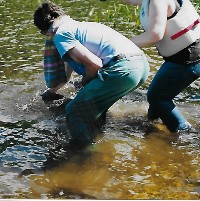 LOON CHICK RESCUE


​August 19 2016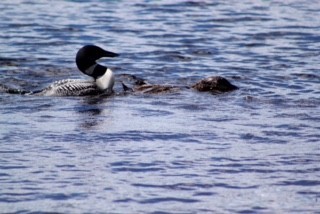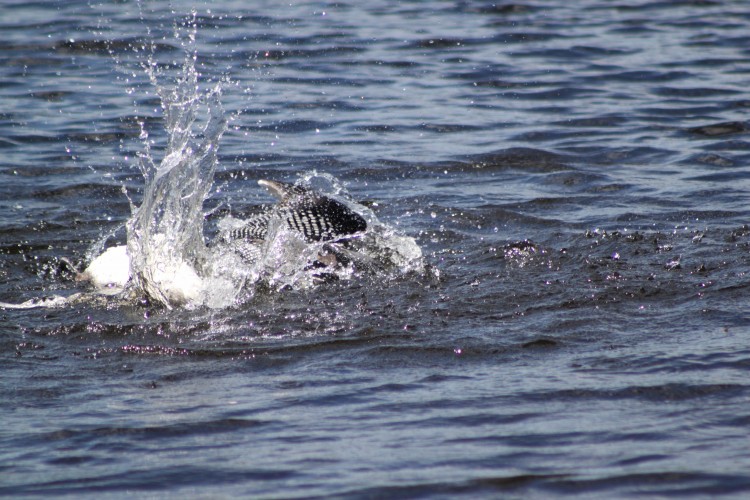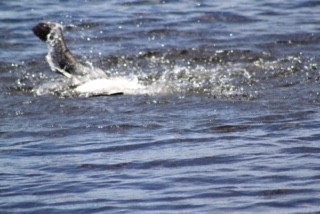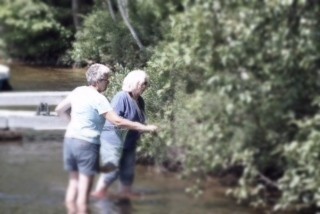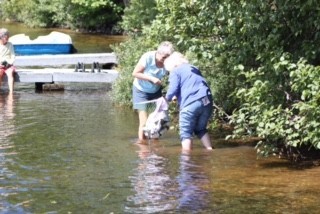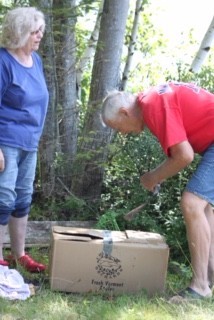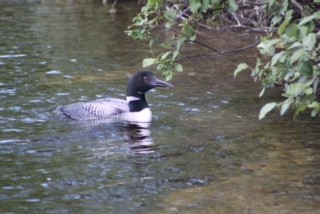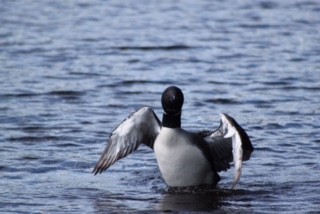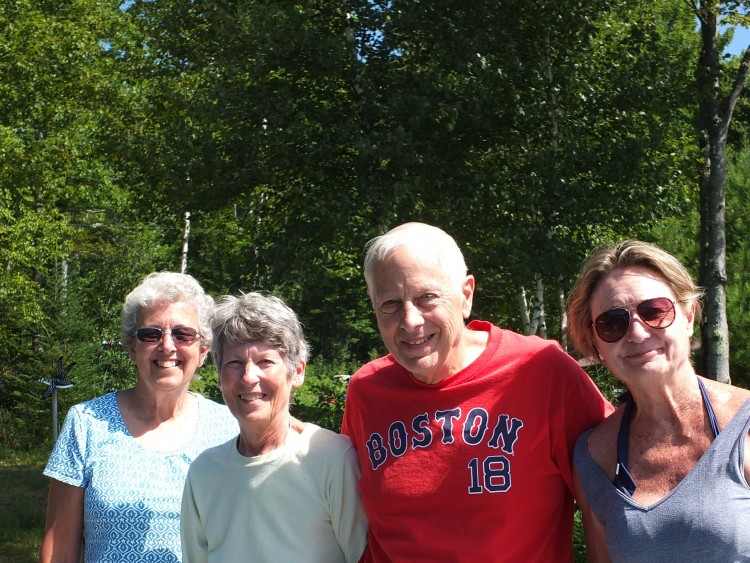 L-R Paula House~ Nancy Spencer~ Dave Spencer~ Kit Johnston

​​Standing here are 4 happy Loon lovers and the lakes newest loon rescue team. They assisted in keeping a male adult loon from doing further injury to a loon chick. The 6 week old chick was attacked in open water in front of them as they watched from the shoreline. It was able to make its way to the shoreline with head injuries and a broken wing It was found hiding under some over hanging vegetation. By standing guard near the chick, the attacking loon was kept at bay until the chick was netted and removed to safety by VLCP volunteer Darlene Sprague of Groton Pond..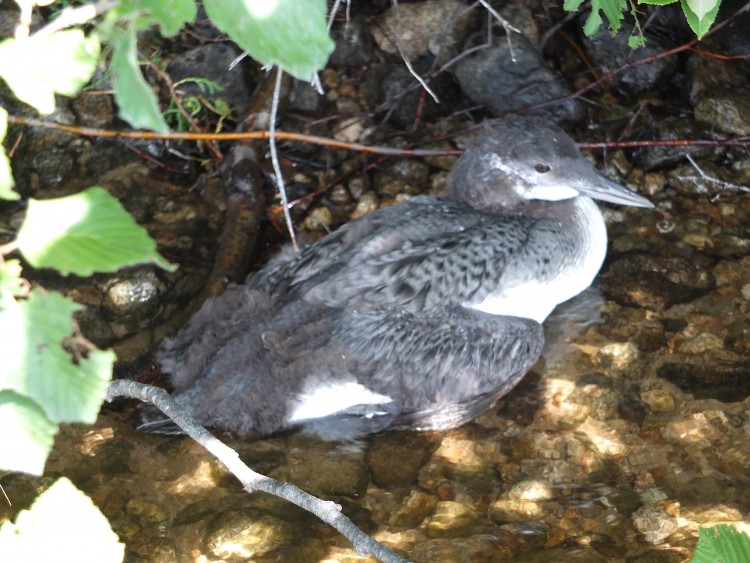 Photos ~ Courtesy ​Jim House
Lake Groton Loon volunteer Darlene Sprague watches as David Spencer assist in securing the box with the duct tape, to ​be transported safely to VINS
​
The adult male loon returns to the shoreline looking for the injured chick after Sprague (

VLCP)

volunteer had just removed the chick to safety
Paula House shows volunteer D Sprague where the chick is hiding under the overhanging bushes.
D Sprague with loon in net, while Paula House assist
ADULT LOON ATTACKS 6 WEEK OLD CHICK ON LAKE GROTON
6 week old injured Loon chick hides under some over hanging bushes on the eastern shoreline of Groton Pond~August 19 2016
​​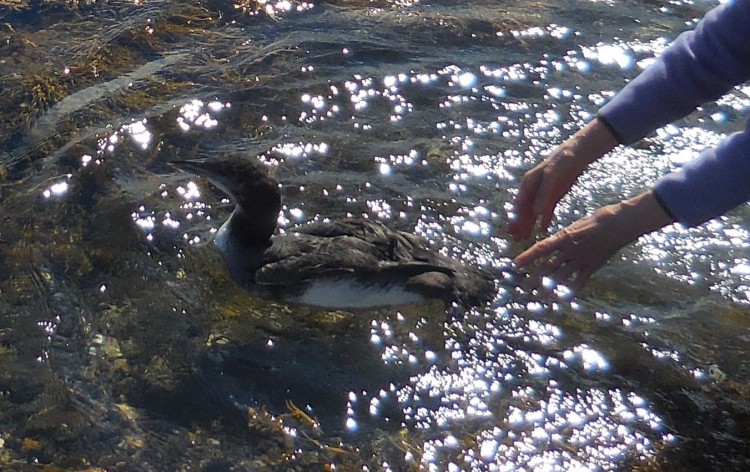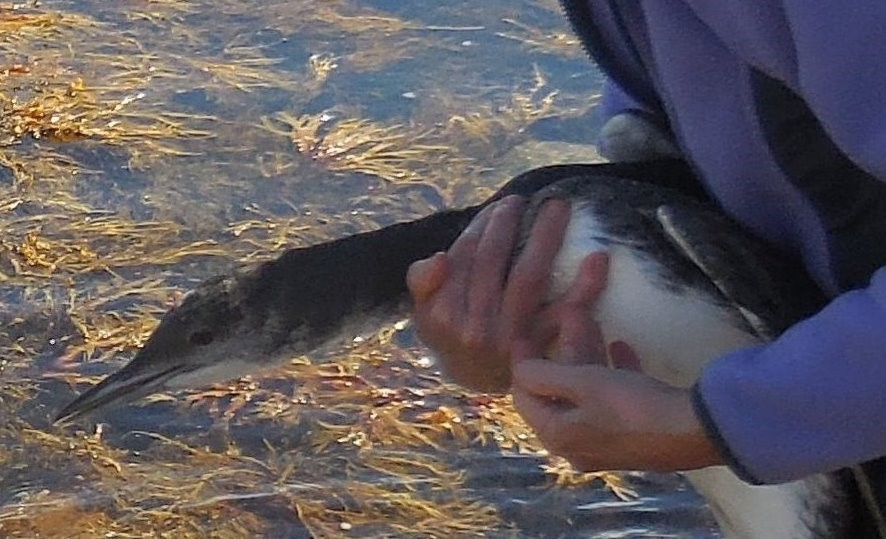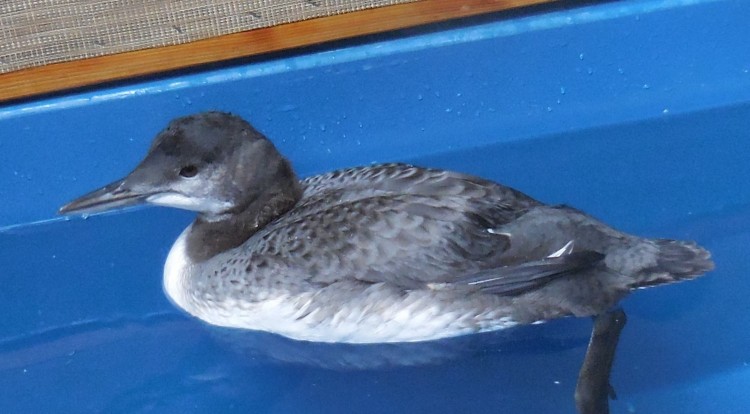 Loon Chick in rehab pool
​Photo's
courtesy Avian Haven Wild Bird Rehab Center
​
​
After thoughts....as a loon volunteer, this experience was extraordinary...we all held our breath after the chick was taken in at recovery and rehab. Not knowing what the outcome would be was worrisome. You would have had to have been involved and invested in the rescue to know how that felt....
​
The chick was barely 6 weeks old when the attack occurred and just 3 months old when it was released. Being in captivity and away from its parents, it had to learn to fly. This could take a while, assuming the wing had healed and was functional enough to fly. "Lucky Ali: as I called her, was able to capture live fish aggressively in the tank and feed herself. She showed great strength and spirit. At that point rehab felt it was time to release her back into the wild.​
Given the time of year, which was October, the release took place in waters on the coastline that would remain open during the winter and had ample food for her. If for some reason she could not fly, she could still could live out her life on the bays of the ocean in New England. Unfortunately there was no time allowed to tag the loon, so we will not know if she will return to her natal lake (Groton Pond) , but we hope she will. ​​​​Good luck little "Lucky Ali" you were a fighter and you won your first round !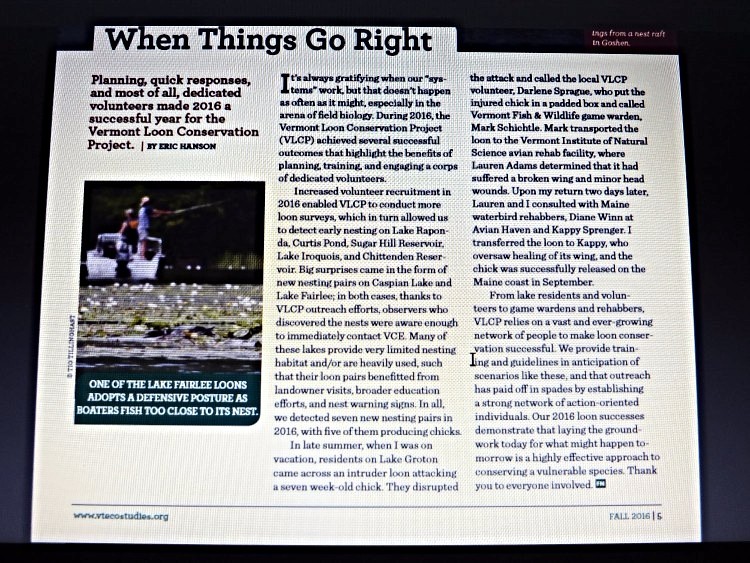 And the story is told here........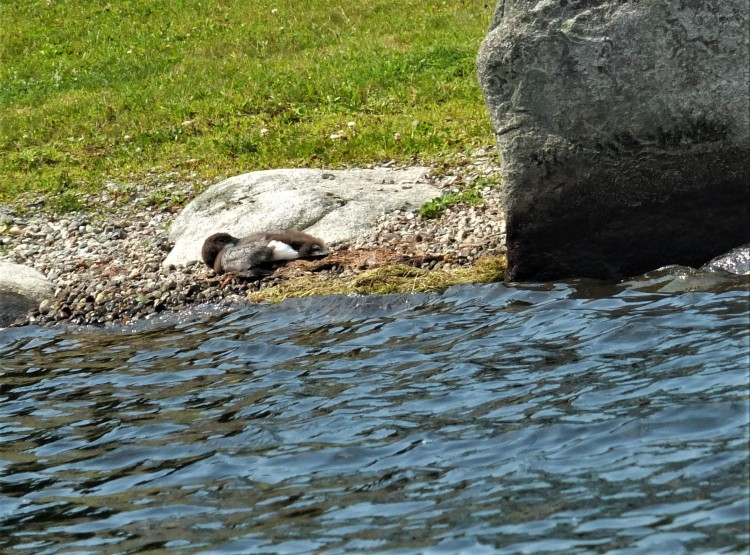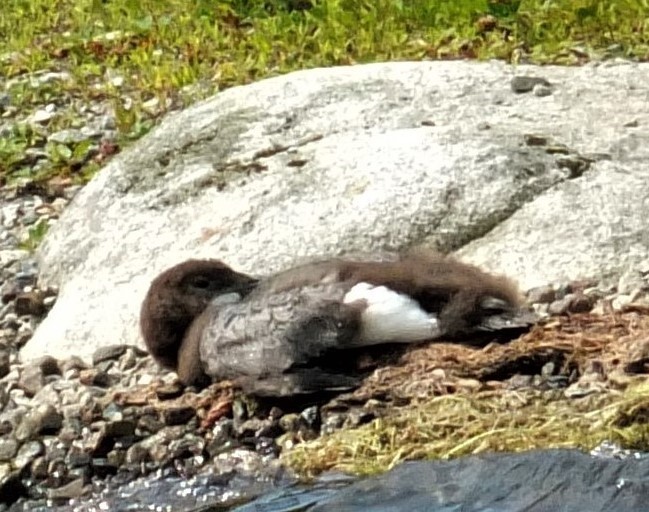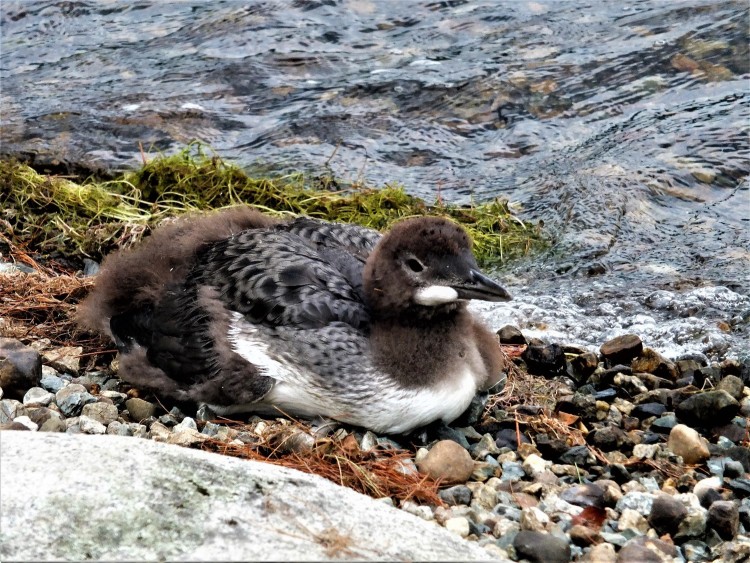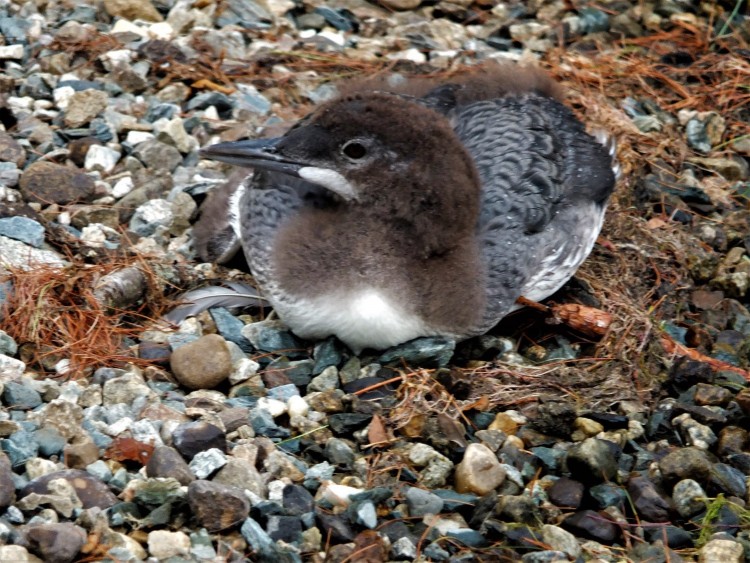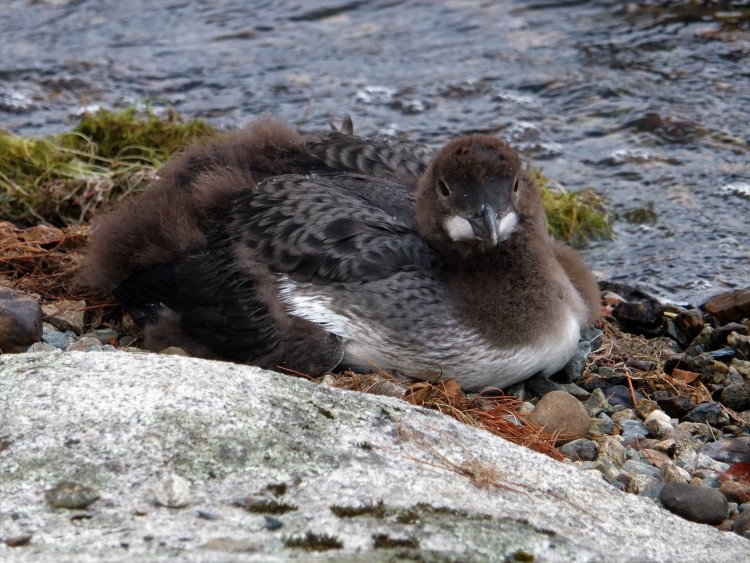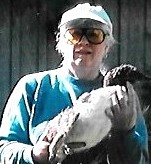 August 2017 Lake Groton Vermont
​​Serious trouble on the north end of the lake. for one of two loon chicks. A rogue loon harassed and attacked this chick. The parent(s)
intervened
but the damage had been done. It had an injury but still followed the parents and its sibling and was eating when it was able to. The sibling was always first to receive food from the parents as it was the fastest. The injury appeared to be one leg. It swam lopped sided and lagged way behind the others on their travels around the pond.
​.
It had been reported to be beaching, several times over a four day period. I received several phone calls from local summer residents and campers who were concerned and some of whom had seen the chick beached on their shoreline.
​
​After consulting with the Loon biologist a decision was made to leave the chick with its parents. As long as it was with it's parents it had a better chance of survival than to recovery it and put it into rehab.
​
​​​Photos taken by me on what may have been one of the last few days it did go to shore. Beaching is one way to remove itself from harms way by leaving the water. The other reasons loons beach may be because they are sick, injured or just exhausted.
I checked on this little Loon chick twice dailey during this time and at each sighting, it was with its parents and or in the company of its sibling. My worst fear was the rogue loon would appear again and end it's life, or the ever present eagles would take it. Luck seemed to be with it, as both chicks were sighted in late September feeding and resting with their parents. And it seemed to have recovered and was doing well.
Footnot​e:
I spent an exhausting week checking on this chick, covering every inch of the water till I found it, sometimes hidden under an overhanging bush at the waters edge. At other times behind rocks or nowhere to be found. I never gave up. Hiding is something chicks are taught by their parents, and a way to hide be out of harms way.
​I developed an emotional attachment but was careful to never touch it. I kept my distance. Certainly close enough to have rescued it if I had to. It never appeared frightened or afraid of me.
Just like a mother, I talked to it softly and it appeared comfortable in my presence. It was beautiful and I felt very blessed to have been in its presence. I think it was a little girl, it was smaller than its sibling, Being in its presence was an incredible experience that I may never have again with a loon. It touched my heart.
​
​Loons are very feisty and combative and dangerous., but we got along just fine. I never would recommend to anyone to mess around with a loon, adult or chick. They will stab and attack. ​​I want to believe that it flew off and migrated in the late of fall, and will live to survive and return to its natal lake when it is mature.
​​
Darlene Sprague~Lake Groton
​Vt Loon Conservation Volunteer
​October 2017​
Index...Click on any page below to go to that page...