END OF YEAR LOON CENSUS REPORT FOR VERMONT

Volunteers counted around 271 loons on 162 lakes throughout Vermont during the annual statewide loonwatch survey on July 16 compared to 228 adult loons counted in 2009. the reason for the increase include more lakes surveyed , with great weather compared to some recent windy years, and more loons.
The biggest increases in loon numbers were observed in north central Vermont with an increase of 25-30 adults in the region. We are seeing more individual loons on smaller ponds , and more loons congregating on larger lakes. Ten adults were observed in early august on 140 acre Great Hosmer pond. Loons were flying in and out of there all summer long, maybe because the pair has produced 3 chicks in 3 tiries, and non-breeders are ready to challenge for the territory

Overall productivity was lower than in previous years with 0.61 chicks per territorial pair compared to the 30 year average of 0.71 chicks per territorial pair. Vermont reports 72 pairs attempted to nest-57 sucessful-70 chicks survived through August .

There were 3 known adult mortalities on "Bald Hill Pond, Echo Lake and Wolcott Pond. Only the Echo Lake loon could be sent for a necropsy. The other 2 were highly decomposed. We successfully rescued several loons from entanglements and ingestion of fishing line, crashes on ponds too small to fly from, and birds that somehow went over spillways. We might try for a 5th time to capture a loon caught in fishing line on Harriman Res.
Please remember if you FISH,

PLEASE REEL IN

WHEN LOONS ARE DIVING NEARBY. THIS IS A MAJOR PROBLEM.


LOONS TRAPPED IN ICE ON GROTON POND
BY
DARLENE SPRAGUE

​December 13th 2011

Today started out badly.....first thing in the morning I received word from Dave Spencer, a year round resident of Groton Pond, that two loons were stranded in the iced over pond in forty feet of open water. After attempts to contact the Loon Biologist, I left a message and decided to try to contact the Wildlife Warden. He was able to respond.immediately and evaluated the situation. The ice was about an inch thick and very unsafe to walk on. Loons can become frozen into the ice and die. The chances of their survival could be slim without human intervention..

I have dreaded this day and knew sooner or later it would.come about. With this winter's crazy fluctuating temperatures, is was highly likely this would happen. I think the two loons could have been the two chicks from the north end, hatched early July. If indeed they are the two chicks, they are young and imature. Only five and a half months old. Because of the fickle weather they did not migrated due to inexperience, in my opinion.

The story unfolds and becames an every day drama of events for residents of the pond. They witnessed the two chicks taking flight and then crash land on the ice a distance away from the hole in the ice. Then they would both struggle on the ice and flounder to make it back to the small opening. Each time they would suceed.

There was much ta-do about the hows and whys this was happening. I think the basic reason was not that they were incapable, but that they were confused, and their instincts had not kicked in.. There was speculation that they were sick or injured, or just not strong enough to maintain long flights. Sightings told us they could both fly, but didn't seem to want to leave. They continuously would take flight, crash and return to the same spot.

The temperatures varied from day to day, above freezing, the ice would open up into channels and pools. When the temperature dropped below freezing the channels would close up and force the loons into smaller open pools. All the while they stayed. This rise and drop in temperature went on for days, and drove spectators crazy.

There was much discussion about a rescue attempt. One was was to put a boat on the ice and chop a channel to the loons to make a open water runway and give them the opporturnity to leave. This method has proven to be sucessful.

Given the loons were located in the center of the pond, midway between the West shore and the East shore, it would have taken a good days work with no assurance that the loons would stay put for a netting rescue. The second option was to ask the local fire department if they would be interested in a training ice rescue. This proved to not be an option for them.

The last chance for rescue and the preferred one is to wait till the ice is at least 3inches thick and safe to walk on. If the loons can survive to this point, the ice will force them onto the icy surface, where they are somewhat imobile and can be netted . Timing is everything. When the ice closes up and drives them onto it, they are prime targets for predators, eagles, foxes, etc. At that point their survival is touch and go. They are usually in a weakened state from weight loss, and hypothermia. If they are not rescued quickly, they may not make it.

The story goes that one of the two young chicks took flight a couple of days after last seen and never returned. The second chick kept residents on the edge of their seats, by hanging around for better than a week. It would fly and was seen diving, so it might have been able to eat. But when it took flight it would continue to land and skid across the ice and then scramble back to the opening in the ice, from where it last came from.

Why it didn't continue it's flight was a mystery. The bottom line it just seemed confused and didn't want to leave. Finally the 23rd of December it was seen taking flight, making a circle over the area and then flying off. No one really knows if it got off the pond or flew to open water at one of the inlets that might have provide a bit of open water at the end of the pond.. We may never know unless spring provides evidence they never made it..

Many thanks to the residents that came forth and helped with daily reports and concerns. All your support and interest was appreciated. So many felt helpless and frustrated regarding the little ones situation. It was heartwarming and such a relief for everyone when the last loon left. It would have been extremly difficut to watch them suffer and die. This was truly a Christmas miracle.

Darlene Sprague
Vt Loon Recovery Volunteer
Groton Pond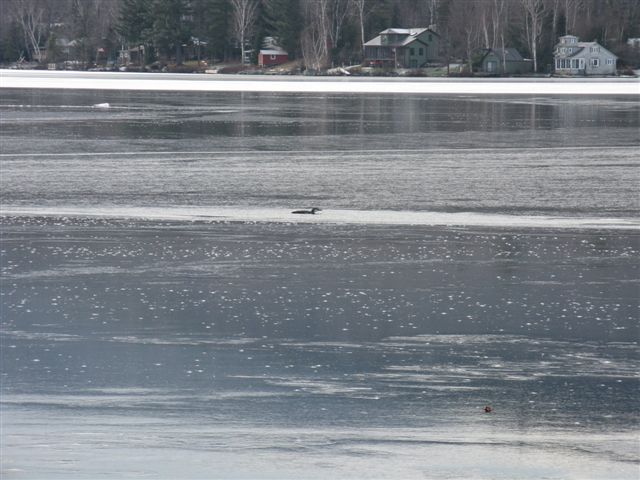 Meanwhile the same thing was happening across the state in other waters, under the same circumstances.
A young loon was rescued from Lake Elligo in Greensboro, Vt by several local fire departments and VFWD game warden Russ Shopland using a newly acquired airboat.

The local fire department used the experience as a practice run for their first thin ice rescue.The loon was picked up without any chases, although the rescue boat was temporarily stuck in place for a short time. The loon was likely a bit traumatized as a mature bald eagle had been pacing around the hole two days before. The eagle had taken some dives at it while it was in the water, and actually picked up the loon with it's talons for a few seconds before dropping it.

Local residents had been watching the loon for the past 2 weeks as the ice formed on the lake. They had been waiting for the hole to freeze over before taking any action, and action they saw. The Loon was rescued. Eric Hanson, loon biologist took the loon home and put it in his bathtub, (another first), and was feeding it bait fish that he bought from the local fishing store. (the loon seemed content)

The next day he took the loon to the vet . It was thought the loon might have an injured wing and it did. It had a break in the wing that had healed, but was a bit out of alignment. The loon was fine in the water and could easily live out it's life as long as it did not have to fly to the ocean where it needed to go.

Eric called some very nice people who were willing to drive the loon to the coast. They took that loon and another, who had crash landed on a road in Morrisville. Most likely disoriented or making a last attempt to get off of some frozen section of the Lamoille river. It all worked out. The loons were set free on Casco Bay that evening. .There was also another loon being monitored on Memphremagog, that finally had just enough of a open water runway to take flight

log onto vtecostudies.org web site, for more details.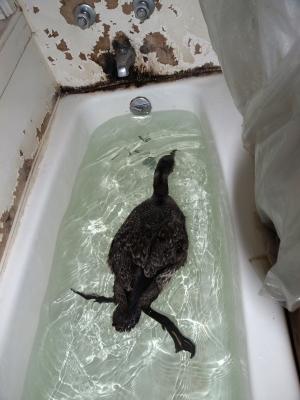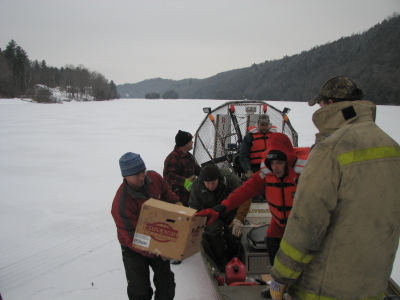 Loon biologist, Eric Hanson (L) holds a box with the rescued loon inside. Rescued by volunteers and VFWD game warden, with the help of a new airboat
photos and story provided by Eric Hanson with permission to use on this website
FANTASTIC JOB EVERYONE ! THANKS !
Rub-a-dub-dub, little loon in a tub...
recovered from Lake Elligo and waiting for an early morning visit to the Vet's.
Loon trapped in small open channel of water surrounded by ice at Groton Pond in mid December . Photo provided courtesy of Dave Spencer Groton Pond resident
MORE LOON RESCUES IN VERMONT
Report on Groton Pond Loons
End of season 2011
SOUTH END NESTING PLATFORM
two eggs -one chick hatched survived through labor day and observed later in fall

NORTH END NATURAL NESTING SITE
two eggs-2 chicks hatched-survived through December- last observed before ice closed in

see story below
Loon (s)

Trapped in Ice on Groton Pond