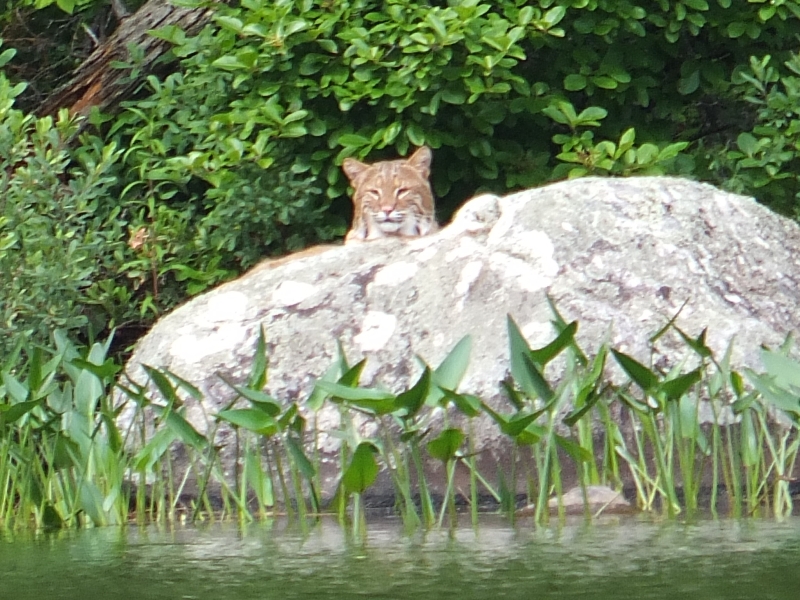 SLIDESHOW
The many faces of Bob
Photo Darlene Sprague
July 2014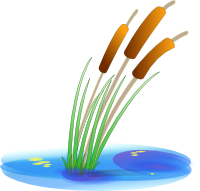 "Oh, be still my heart."
( direct quote from Darlene)
*
hover over picture then ​click box
right bottom corner
to enlarge video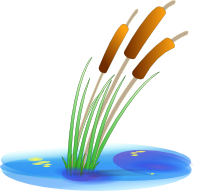 BOB


​​ (SWAMP CAT)
photo's and video
​ Darlene Sprague
I met Bob when I was rowing around the swampy area of the pond. I looked up and there he was spread out on a boulder grooming himself on the shoreline. I was within 20-25 feet of him when I first saw him. Having had experience around wildlife I did the right thing, I gambled and it paid off. I ignored him. I quietly turned the boat around and went in the opposite direction. My camera was sitting nestled in its case on the floor of the boat. ( This is the way I transport my camera when its not around my neck so when I bend over its not swinging and banging into things) I think if I had done what most people would do, stop and grab the camera, point and shoot, he would have run off.
​​ I rowed out of the current and was still holding my breath when I turned around to look, he was still there and not paying any attention to me. This magnificent wild animal, was being pestered by biting deer flies and continually snapping and swatting at them. Large in size, healthy and mature. He would close his eyes and doze for seconds, in the morning sun, then open them and swat
and
snap at more flies.
​The sun was just burning off the morning fog. He was relaxed except for the persistance of the biting flies. This is the fifth time I have had the good fortune of seeing a Bobcat. This time was as exciting as the first. And this was the only time I had a camera with me and was able to take photo's and a video.
​ Someone said that after looking at these photo's, that this was a once in a life time opportunity that I had, to spend as much time as I did with that cat.
​ By the time I got my camera out of its case and set up for filming, minutes had gone by. The camera from the first picture to the last tells me I had the pleasure of his company for over 15 minutes, not counting the time it took me to row by him and away from him. He was aware of my presence but did not appear to be very intimidated at my being there, as long as I was moving away from him. Once in awhile he would glance at me.
​ ​​I picked up my camera without making any quick moves, set it and slowly starting taking pictures. I was able to take several stills and then decided to switch the video on.​
​ I could see the flies were getting to him, they were relentless. He lapped his paw, swung his head around and was snapping at them and as if he had had it. Finally he got up and slowly walked onto the shoreline and into the woods. If you listen closely, after he disappeared into the underbrush, I took my first deep breath, Whew ! What an experience !
So now I share it and I hope everyone who views this breathtaking, incredibly beautiful animal and the amazing moments in time I spent with him will appreciate and enjoy this too.
​
​​Darlene
"CAT NAPPING"


WHO kNEW ?​
Have something to say, lets
hear it !