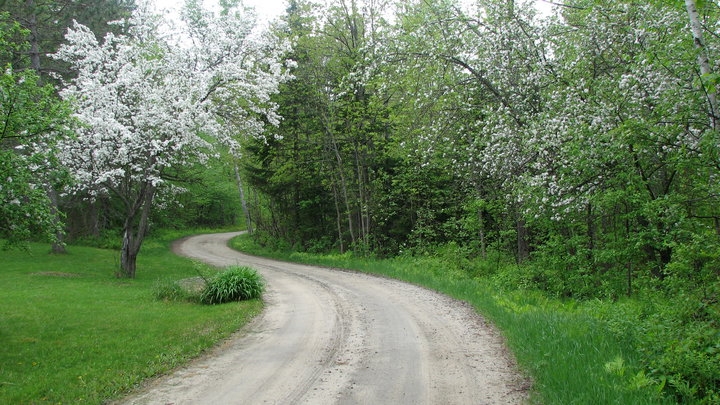 Spring


Road to Camp
Photo...
Elaine Magnan
SPRING TIME AT GROTON POND
Once Upon a Spring

I don't think there are too many things that stirs my soul like spring on Groton Pond. I am acutely aware of this as the years pass by. Especially as I stepped out my door at home to hang sheets on the clothes line. It was 48 degrees, bright and sunny, the birds were singing. The feel of warmth from the sun on my back, the gurgle of melting snow run off, the chirp of a robin. The renewed promise of life.

It's as if someone had waved a magic wand over my being. It has been a rough winter for many of us who live in the north country. The snow just wouldn't quit. It was extremely cold. In January I went out and bought a puppy. He needed to be house broken and walking him about every 3 hours, around the clock got to me, during those cold blustery nights. Sometimes it was really tough because the snow became deeper as winter progressed, and the nights grew colder.

The pup is a true joy, and a wonderful remedy for elimiating cabin fever. There is never a boring or dull moment with him around. He just loves the snow. At three months old, snow was all new and exciting to him. I wonder if he will feel that way as he gets older. I don't care for the cold and the snow like I used to. I would consider giving up winter, and would be willing to move to a warmer climate, but only for the colder months.

I have snowmobiled for forty plus years, but no longer do. I miss it. We sold our machines and gave it up. It was then that I lost my tolerance for winter. Keeping the house warm, by putting another log on the fire has became one of my favorite winter chores and spending time with family and the pup.

I would never consider giving up spring in Vermont, never. It's a miracle to be able to feel and experience the promises that spring brings. It makes me feel like a kid again. I appreciate things more. Simple things like walking on bare ground, hanging clothes on the clothesline, the first glimpse of a migratory bird, or the sweetness of a new puppy.

Looking in my flower gardens to find spring bulbs popping through the partially frozen ground, a true miracle in itself. And with my Muddy pup, the joy of watching him run across the lawn in wonder of all the new and wonderful things yet to come, like going to the cottage by the pond.

Darlene Sprague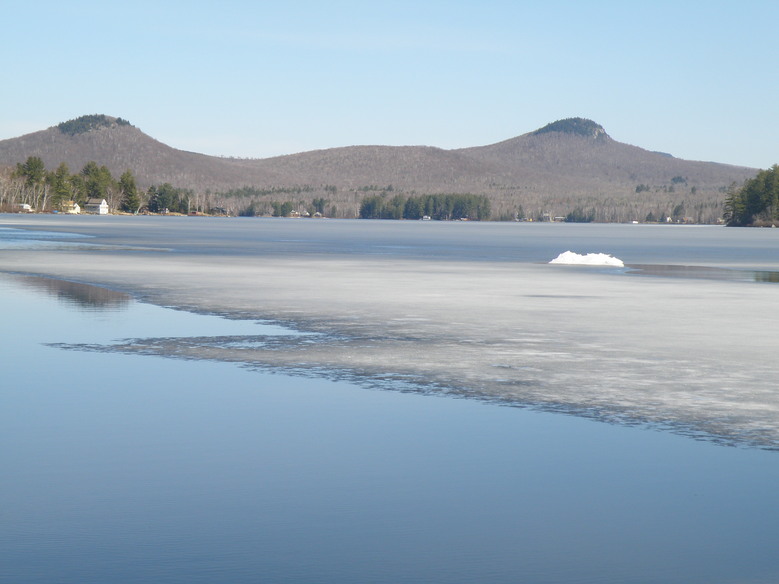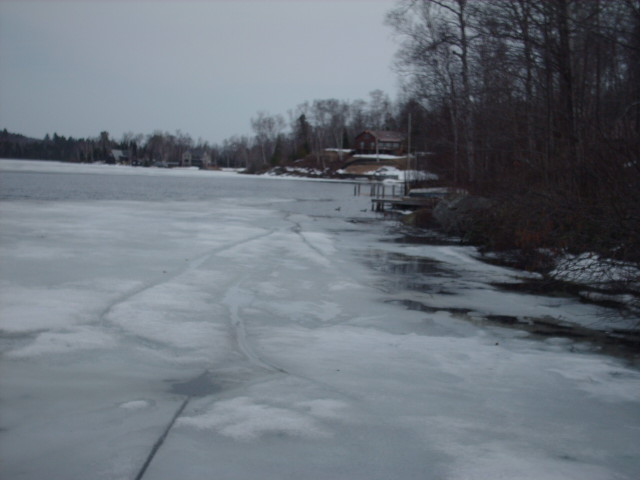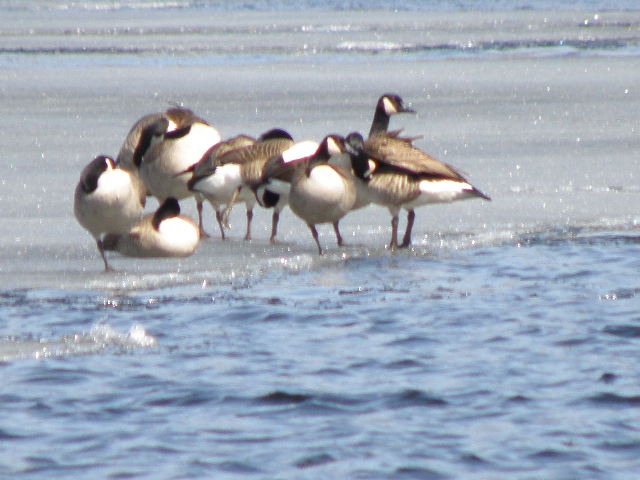 Canada Geese riding the ice floes on Groton Pond


Photo Darlene Sprague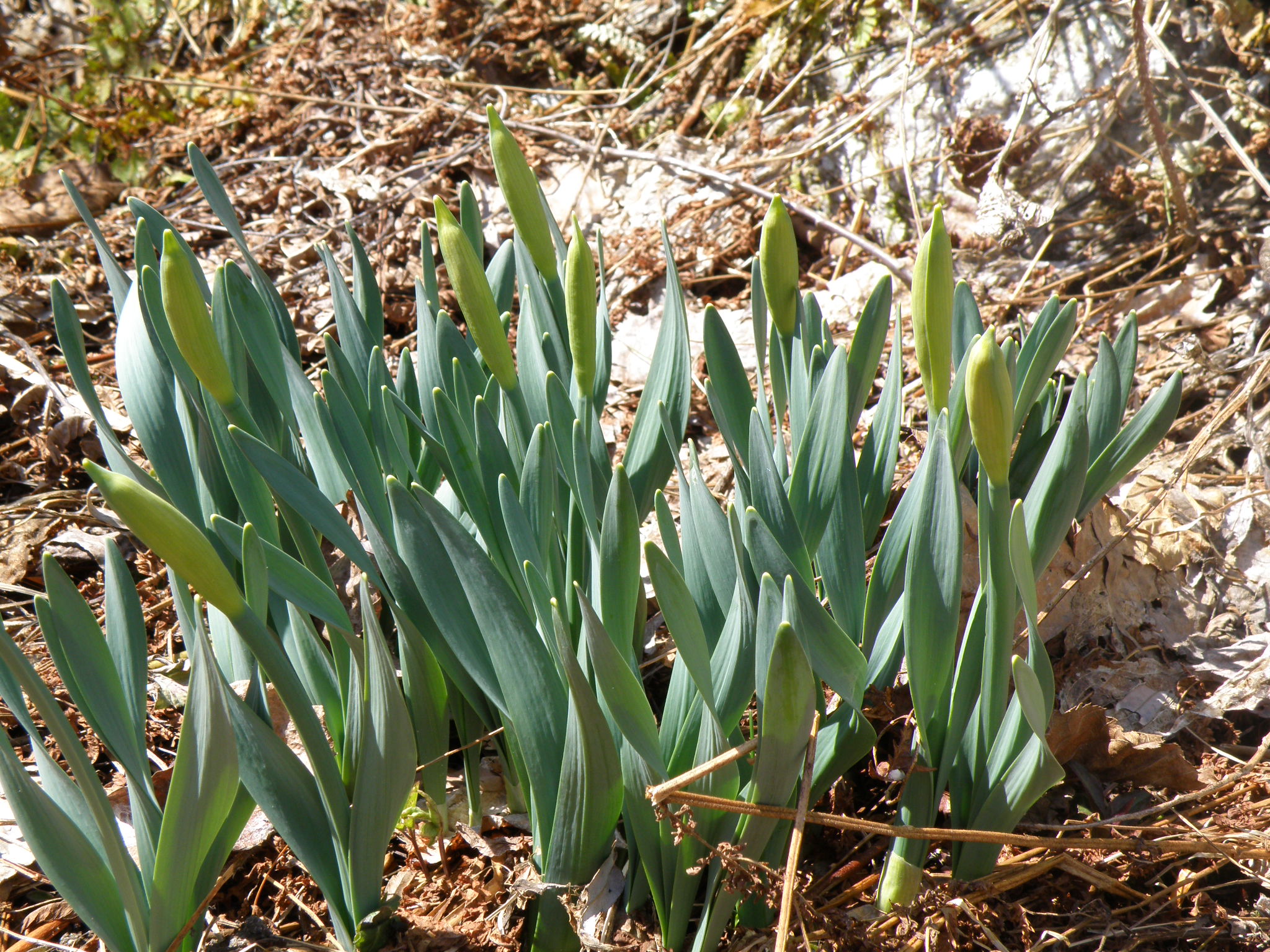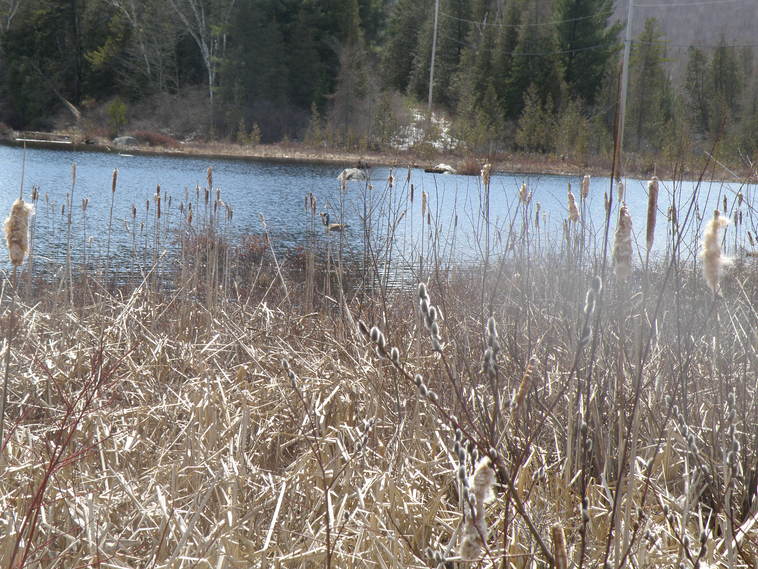 South End open water
note pussy willows in right foreground.....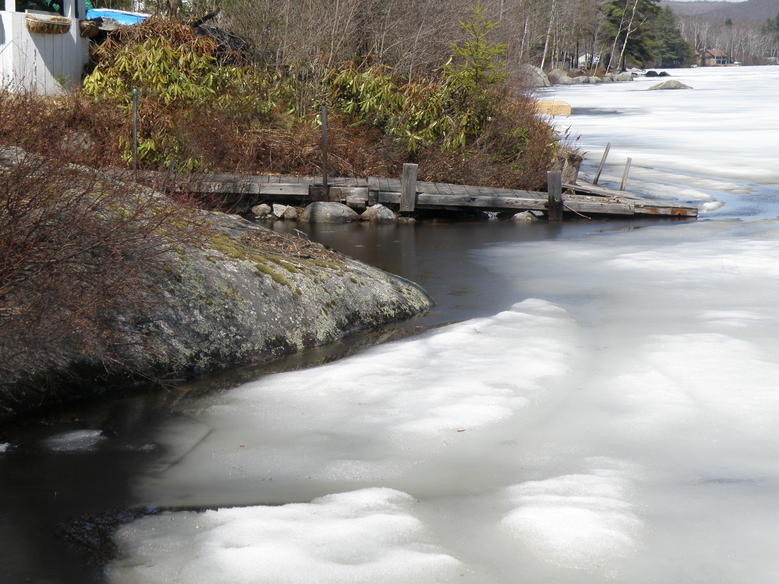 A
pair of Loons set down early in a spot of open water even before the ice is fully out...see x's to point out the loons in right back ground
The promise of a early spring
Spring Robins on Groton Pond
Written by Darlene Sprague
as told by
Jim Soutar
Groton Robin

finds peaceful setting to nest and raise her
chicks


Where else but on a ladder hung up on the side of a building at the Soutar's summer residence.

Sharp eyed Jim Soutar noticed on his spring weekend visits to his camp, a mother Robin
busy building a nest on the ladder stored on the side of his building.

Jim took these pictures in sequence each weekend as the event progressed.
Starting in May
May 5th building her nest
May 6th sitting on her nest
May 12th a peek when Mom was away, revealed three bright blue eggs.
May 25th three newly hatched chicks, without feathers
May 28th the chicks had grown, and developed feathers
June 2nd they were in the nest, and then they were gone, it appeared they fledged


So the story ends with a small spring miracle happening quietly on a ladder, at Groton Pond.


Nice Job Jim ! Thanks for sharing.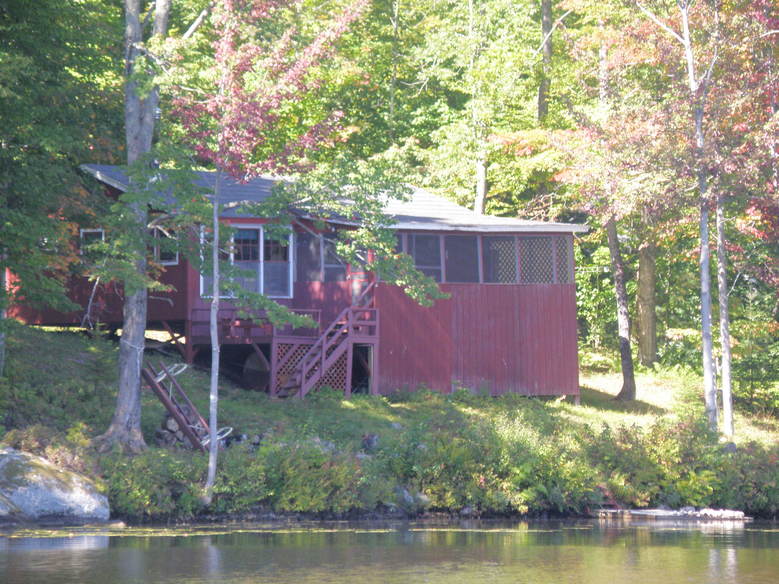 A ROBIN STORY WITH A TWEET ENDING
Written by Darlene Sprague
as told
by
Rik Ortiz

One spring day, Rik Ortiz was delivering a pontoon boat to it's owner on Harvey's Lake, from where it had been stored. The boat had been dry docked.
Arriving at the Lake's public boat launch, Rik was greeted by a volunteer who was inspecting incoming boats for aquatic invasive species. Upon inspection of the pontoon boat, the volunteer called it to Riks attention that he had hitchhikers on board, hidden underneath the deck of the boat on one of the pontoons.

Upon closer inspection both men were amazed to discover that tucked away safely under the deck was a robins nest with three tiny baby robins inside.
These little ones had survived the long ride down the highway. The chicks appeared to be in fit condition, looking unharmed and seemingly without any feathers being mussed up. Realizing that these babys were tough little guys who needed help, Rik carefully removed the nest and placed it on the front seat of his truck.

Shortly after delivering the boat to it's owner, he returned the nest to the same place from where he had picked up the boat.
The mother robin was still in the area and she returned to feed her hungry chicks.

If they had not been discovered and rescued, they would no doubt now be floating on Harvey's Lake and so to speak have been "up the lake without a Moma".

Great job Rik, and well done.

The former Linton Camp , one of the remaining older camps on the pond
"